LATINAS: STRUGGLES & PROTEST IN 21ST CENTURY USA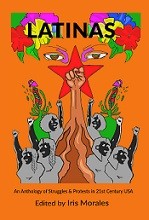 IRIS MORALES debuts her new book Latinas: Struggles & Protests in 21st Century USA.  Iris is a longtime activist, educator, attorney, media producer, and published author. She is editor of a new anthology, Latinas: Struggles & Protest in the 21 Century USA. Her work focuses on social justice, human rights, and the liberation of Puerto Rico.Latinas: Struggles & Protests in 21st Century USA is a timely anthology of poetry and prose about the lived experiences of Latinas and efforts toward social change. The collection reflects on how Latinas perceive the gendered conditions of their lives, describes inequities faced by class, race, sexuality, and ethnicity, and recounts stories of resistance. The writings show both diversity and unity across time, generational, and geographic boundaries. Each piece is unique. Taken together they highlight contemporary Latina voices and perspectives on socio-political and cultural issues, activism, and imaginings for a more humane world.
She is also author of Through the Eyes of Rebel Women: The Young Lords 1969-1976 and the writer, producer, and co-director of the documentary film !Palante, Siempre Palante!, was a leading member of the Young Lords and co-founder of the Women's Union.
The impressive list of contributors includes Amanda Alcantara, Gloria Amescua, Nia Andino, Tania Asili, Natasha Lycia Ora Bannan, Rosebud Ben-Oni, Ariana Brown, Rosa Clemente, Karla Cordero, Johanna Fernández, Maria Teresa "Mariposa" Fernández, Marisa Franco, Katherine Garcia, Claudia Sofia Garriga López, Magdalena Gómez, Jessica González-Rojas, Ysabel Y. González, Nancy Lorenza Green, Elena Gutíerrez, Jennicet Gutíerrez, Leticia Hernández-Linares, Karen Jaime, Aurora Levins Morales, Stephanie Llanes, Jennifer Maritza McCauley, Florencia Milito, Lenina Nadal, Myrna Nieves, Emily Perez, Mónica Ramírez, Raquel Reichard, Carmen Rivera, Peggy Robles-Alvarado, Dominque Salas, Aida Salazar, Ruth Irupé Sanabria, Norma Liliana Valdez, Liliana Valenzuela, Vickie Vértiz, and Anjela Villarreal Ratliff.